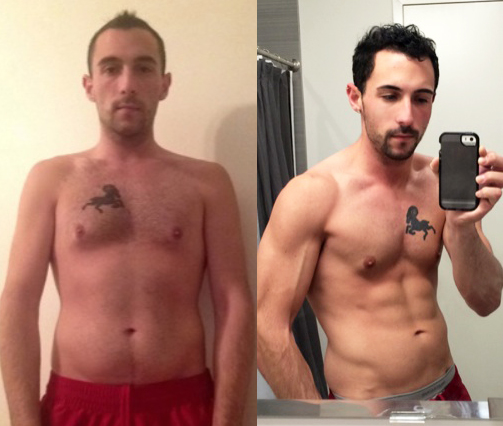 "I've been a client of Parker's for just over a year now, and with the results I've seen so far…well I couldn't be happier! I've done some fitness training on my own in the past and managed to lose upwards of 50 pounds. Since then, I was stuck in a tough place not knowing how to transform the rest of my body into what I wanted. Parker was able to give me the tools, education and boost of confidence I needed in order to make those changes. I remember sitting in his office during our initial consultation on April 7th of last year and how excited I was to finally be making the next step to achieve an overall healthier lifestyle and the physique I've always wanted. With Parker's ability to meet my individual wants and needs, in conjunction with his experience and expertise in the health and fitness fields, I'm at an all time high in life. Parker is truly one heck of a guy!"*
-Brian V
"Just thought you should take a look at what your program has done to me… with only half way through!!!!! Imagine how I'm going to look with another 6 weeks of hard work! My man, I can't thank you enough.

This is the first time I've ever had results like this (never mind how fast it took!).

Thank you again!"*
-Ali A.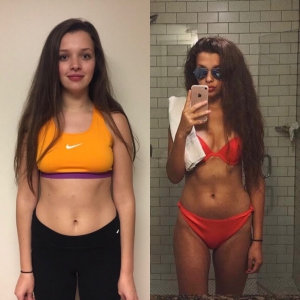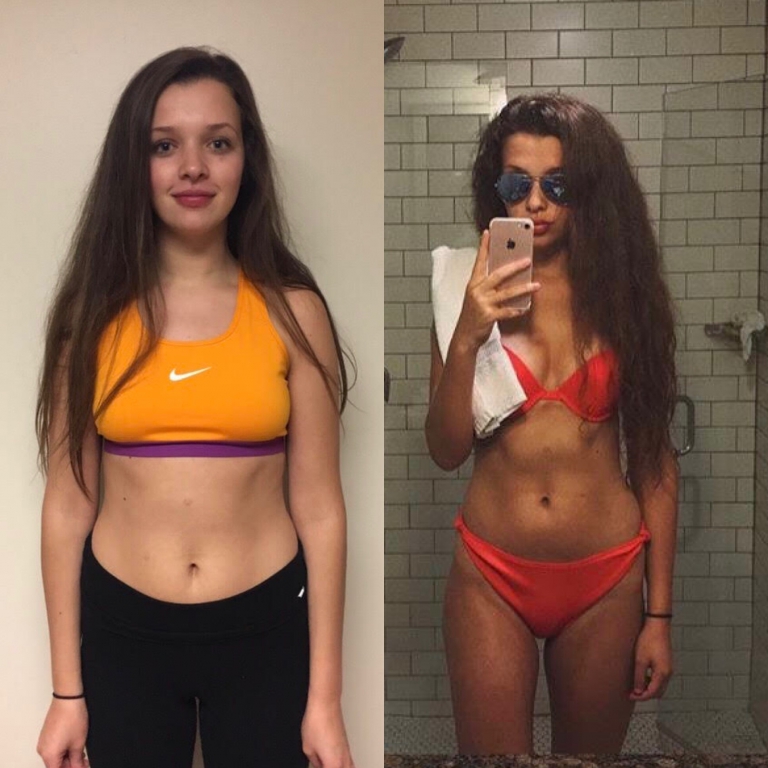 "I honestly can't even begin to express how much my life has changed since I've been a client at Parker's. For years, I've tried to find a trainer that could help me in all aspects of my life- from working out, what foods to eat, how to maintain a healthy lifestyle, and overall just change my mindset on becoming the best version of myself. Ever since I trained with Parker, I've become such a healthier, happier, and motivated individual. The workouts Parker gives his clients specifically address exactly what they want to work on. I learned so much and honestly am the happiest and feel the best I ever have. I'm in college and needed to learn how to be healthy but still maintain the typical fun college lifestyle, and Parker taught me everything and more. I tell everyone about Parker, and am so lucky to call myself a client. The advice he gave me and the relationship he builds with his clients is something I've never seen before. He simply is the best."*
-Kimberly P.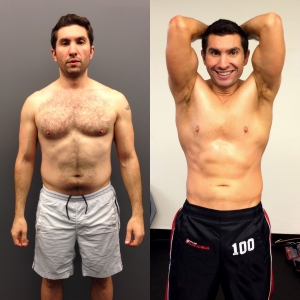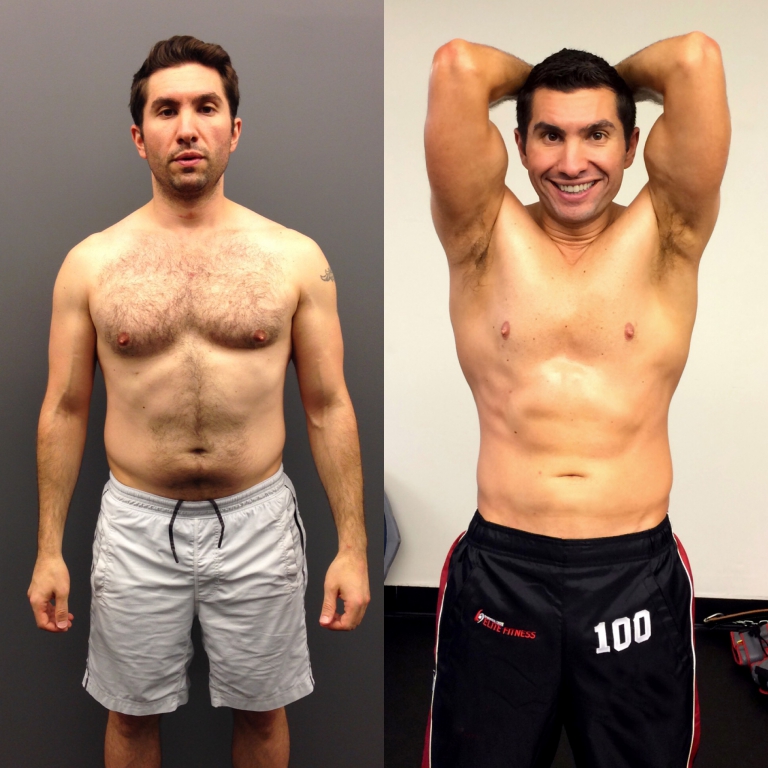 "I have been working out with Parker Cote for over 2 years. While I started in good shape, I have managed to lose 20 lbs of fat through Parker's innovative training techniques. He is a true professional; a master in the practice of health and fitness. The boutique studio is pristine, modern and practical – the best place I have trained, hands down!"*
Mark V.
"I have trained in gyms all over North America, from large chain gyms such as Equinox and Sports club LA, to small well-known private gyms like David Kirsch, and I can say, without a doubt, Parker is the m

ost inspired,

knowledgeable, and dedicated trainer I have ever had. He keeps every workout fresh and fun, yet always gears workouts towards my fitness goals. He helped me drop a dress size and firm up in the months before my wedding, keeping me motivated and enthusiastic throughout what could have been an otherwise miserable process! Whether I have needed a serious, non-stop, high energy workout to melt away stress and fat at the same time, or a sympathetic ear to listen to the cause of such stresses while gently and seamlessly guiding me through a workout, Parker has always been there for support and motivation. Parker has become more than my trainer over the past 2 years-he has become my friend. In a nutshell, Parker is the best!"*
-Christie C.
"

Parker Cote is the trainer you'd wish you'd found years ago.

For the commitment-phobes among us, choosing the right trainer can be no small project. I've trained with Parker from more than six months and right from the start it was obvious that he had the knowledge, equipment, enthusiasm and dedication that would help me reach and exceed my fitness goals.

Parker does not try to sell you on a one-size-fits-all program; instead, he asks about your goals and lifestyle and works with you to develop a customized training and diet regimen designed to achieve them. I have gained sizable muscle mass and core strength and lost fat since training with Parker, and the results I've seen have led me to push myself further toward a higher level of fitness.

In addition to the challenging training sessions in the studio, Parker has completely transformed my own workouts by teaching me a ton of new exercises and approaches to training.
The slick, well-equipped studio and dozens of magazine covers attest to Parker's commitment to excellence in all facets of his career and he applies this same approach to working with his clients. Not only does Parker help you achieve the results you want, but it is also a joy to train with him. I'm so glad I do!"*
"I've been struggling with my weight for as long as I can remember. I've tried all the diets on the market and trained with many different personal trainers, but I've never been able to see great change in my body until I started with Parker. I've been a client of his for just over a year, I've lost over 25lbs, gained muscle and couldn't be happier. Not only have I physically changed by my psychological health has changed tremendously. I've become a more confident and happier person.
Parker's expertise has helped me meet my needs and goals with customized workouts and diet plans. His dedication motivated me to keep working hard. My life has changed for the better and working out and eating clean has become a lifestyle. I've learned a lot about health and fitness during our sessions. I look forward to keep challenging my body and transforming it."*
"Training with Parker has simply been an unrivaled fitness experience.

It is not just the first class amenities and location, but the expert knowledge and unbridled enthusiasm Parker brings to every session. He has an unbelievable ability to keep every workout fresh, effective, and fun.

I have had a blast learning well over 100 different exercises during our sessions.
Not only have I noticed immediate results from training with Parker, but he takes the time to get to know his clients and provide each of them an experience that is truly, completely catered to them. What more could you possibly want?"*
-Jack T.
"I am well into my third year of weekly training with Parker and I could not be more thrilled with my results (in overall well-being, increased strength, total weight loss and diet modifications). Parker has coached and guided me so well in losing 15 pounds (!) to date, while also gaining significant muscle and strength. Parker is a consummate fitness professional, complete with customized workouts, healthy diet suggestions, weight loss strategies, simple explanations on the efficacy of each exercise – all with a dynamic, winsome personality! The studio (in a superb, swanky area of Boston) has everything I might ever need in a gym and is private, quiet and top-flight in design. I look forward to each and every workout with Parker– he encourages me to be my best, as he brings his best to each session. I'm thoroughly grateful to have a partner in fitness, strength and weight loss like Parker!"
-Bill L.
"I have been working out with Parker for over a year and it has been fantastic!!! As a busy professional woman in my late 40's I have several things working against me – lack of time, slowing metabolism, decreasing energy, not to mention unmotivating Boston winters. Parker is my secret weapon. He makes every precious moment in his lovely gym count with ever changing workouts customized just for me! He has also provided nutrition coaching to ensure my efforts in the gym are maximized. I've been to many personal trainers and he's by far in a way the best!!! Having someone with his vast fitness experience and knowledge "on my team" has made all the difference."*
-Emily B.
"I've been working out with Parker for around 6 months now, and on the first day I met with Parker we went over my goals and decided on a plan. That plan included a diet that I followed, our workouts and some suggestions for cardio workouts. Parker planned a steady and sustainable weight loss program, and a great diet that wasn't too hard to stick to. Within 4 months I lost over 20 lbs. and I've managed to keep that weight off since then. Parker is very knowledgeable and helped me with all my nutrition and exercise questions."*
-Salman S.
"Parker was a great resource for helping me take my workouts to the next level. Not only did he help me improve my form and current routines, but he taught me new methods and exercises to incorporate on my own. Parker provided exactly what I was looking for in a trainer and was focused on giving me the tools to meet my personal goals in a way other trainers I'd used in the past had not. I highly recommend him no matter what your fitness level."*
-Alec P.
"I've had an incredibly positive experience training with Parker. He's professional, knowledgable and motivating during each one of our sessions. Parker and I discussed my fitness goals before getting started and he worked to create a specialized diet and exercise plan that has become a healthy way of life instead of a "fad" that can't be maintained. If you are looking for workouts that are different, fun and challenging, I'd highly recommend training with Parker."*
-Jimmy S.
"Parker is easily one of the best trainers I have ever encountered. He doesn't just tell you how to do a workout or how to modify your diet- he embodies. As a worldwide successful fitness model, you know you are getting direction from the best. Personally, he transformed my body. After training with Parker I increased my lean muscle mass while dropping my body fat percentage. In terms of motivation, there is nobody better. He kept my morale at the highest level possible both inside the gym with his encouragement and outside the gym when he would check up on my personal progress. I look forward to taking my body to even higher levels with Parker's help."*
-Jon K.
"One of, if not the best trainer I've worked with. He taught me things about food, health and fitness that I still use in my daily life. I loved that he was as invested in my progress and results as I was.

In the three months we trained together he literally changed my life.

It's because of him that I developed the body and confidence to be a successful model and actor. I would wholeheartedly recommend Parker Cote to anyone who is serious about results and wants to train with someone how is an all around amazing guy and genuinely cares for the wellbeing if hi

s c

lients."*
-Elvys R.
"I joined Parker Cote Elite Fitness in April of this year and I will say that I am 100% satisfied. In one month, I gained more muscle mass and lost 11 pounds! He takes great care in preparing sessions that fit into your personal and physical needs and you always feel invigorated after each workout. He's the real deal."*
-Robert G.
"Parker has been a pleasure to train with,

his positive attitude toward fitness is contagious and a great motivator.

It's great to have a workout you look forward to that doesn't feel like a chore. He practices what he preaches, and it's always great to have a trainer that will do the exercises with you instead of just being a bystander. I feel like Parker is invested in making sure I get the most out of my workout. I appreciate the time he puts into preparing workouts for my sessions and I always leave feeling accomplished. I like that he's able to modify a workout based on how I'm feeling that day or what I want to focus on and doesn't run off of a script"*
-Molly H.
"Training with Parker has been an awesome experience. The workouts are always changing and custom to what your goals are. He's motivating without being intimidating, which is hard to find in a personal trainer. It's clear he cares about his clients success and I feel that with him I'm on the right track to reach my fitness goals."*
-Erica S.
*The testimonials/success stories posted on this page are the sole opinions, findings or experiences of Parker Cote Elite Fitness clientele. The testimonials are not paid and are not indicative of the success of other individuals. Results and experiences vary.